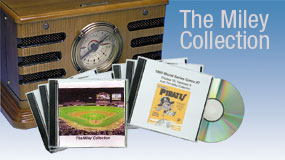 Listening to baseball games on the radio goes back a long way. It's a tradition of summer. Our CDs bring back some of the most memorable game broadcasts and highlights from those summer evenings. Rediscover the excitement of listening to baseball in the ballpark of your mind.
We have 3 main categories of Baseball Audio CDs.
• Complete Game Broadcasts– The Miley Collection
• Classic Baseball Audio Programs
• Team and Season Highlights
Broadcasters: You might also like our page of Audio CD's focused on legendary baseball broadcasters—the voices of baseball.
You'll find this collection here.